Dr. Danielle Schiefer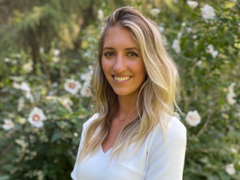 Chiropractor, Medical Acupuncture provider
I graduated with honours from the Canadian Memorial Chiropractic College, where I received my Doctor of Chiropractic. Prior to that, I received my Honours Bachelor of Science degree with a major in Biology and Physiology from Western University. I am also a certified contemporary medical acupuncture provider from McMaster University and a GrowCo certified post-natal fitness specialist.
As an evidence-based chiropractor, I use a variety of techniques to create an individualized treatment plan. These techniques include joint manipulation, acupuncture, and a range of different soft tissue release techniques, including instrument-assisted soft tissue. I combine these with rehabilitative exercise and proper lifestyle education to improve function, decrease pain, and ultimately help patients achieve their goals. I treat all ages with complaints ranging from headaches and neck pain to hip/knee osteoarthritis and strains/sprains. I believe in the importance of understanding a patient as a whole and getting to the root of the problem.
In my free time, I enjoy cooking healthy recipes and treats, listening to podcasts to expand my learning, and exercising – barre and running are my latest interests. I have a particular interest in nutrition and am currently working to complete my Functional Nutrition Certification.
I am a proud member of the Canadian Chiropractic Association, Ontario Chiropractic Association, and College of Chiropractors of Ontario.