YOUR HEALTH Wellness Centre – November 2018 Clinic Newsletter
By admin
Posted On November 2, 2018
Thank you to everyone who joined us at our anniversary and patient appreciation event!
Thank you to all of our wonderful patients who came out on October 30 to help us celebrate 10 years! We're proud to serve Oakville and hope that you enjoyed our Harry Potter theme. We certainly enjoyed "treat"-ing you in a whole different way!
Watch your inbox for our new appointment reminders!
We recently transitioned to a new scheduling system at the clinic. Please keep an eye out for your appointment reminders as they will look different coming from the new system.
Orthotics promotion: BOGO for $100
During November and December, we are offering our Buy one pair of custom orthotics and receive the second pair for only $100 promotion. That's two pairs for only $600!
Many insurance policies include coverage for orthotics once a year. This is the perfect time to check with your benefits provider to see if orthotics are covered under your plan and, if required, to get a note from your doctor so that you don't miss out on this promotion!
Custom orthotics differ from the inserts you can buy at any store. They are specially made to conform to the unique shape of your foot and can be created for almost any type of shoe, including high-heeled shoes! They are inserted into the shoe or integrated into the shoe's design so that they become part of the sole of the shoe.
Your feet should not hurt. They are designed to be used, and pain is the body's way of warning you that something is wrong. If you ignore the pain, the condition causing it could become worse. Custom orthotics help correct misalignments of the foot, improve posture, and eliminate foot or leg pain.
For more information or for your orthotics assessment, please call us at 905.829.0724.
Postpartum massage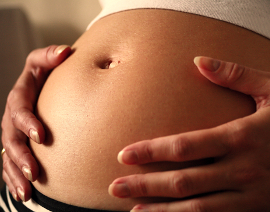 After giving birth, the core is weakened. Massage therapy can help with the muscle strain that happens during delivery, as well as balance out compensations in your posture that happen afterwards.
Treatments focus on your back, neck, hips, and hamstrings. For caesarean births, we can also begin working on a scar as soon as the wound is closed. [Read More]