YOUR HEALTH Wellness Centre – February 2020 Clinic Newsletter
YOUR HEALTH cares about supporting our community
Many people within our community have struggled at some point in their lives. Luckily, there are great resources like Safetynet in Oakville. (https://www.safetynetservices.ca/)
Safetynet relies on community donations to provide free items and services to financially disadvantaged families. They also provide programming that encourages independence to help break the cycle of poverty.
January and February can be a difficult time for many in the community. To help, YOUR HEALTH is holding an "Essentials" drive in support of Safetynet. We will be collecting feminine hygiene products, new packaged underwear (various sizes for the whole family are welcome), infant diapers (various sizes, larger ones are more in demand), and other hygiene essentials.
Please feel free to arrange a time to drop off new items at the clinic, 1158 Winston Churchill Blvd, Oakville) between February 18th and March 14th. You can contact us at 905.829.0724 or info@yourhealthwellnesscentre.com.
To thank you for your generosity, we will be raffling off a few prizes. You will receive a ballot when you bring in your donation and the draw will take place on Monday, March 16th.
YOUR HEALTH welcomes Dipti Kosadia, Physiotherapist
Dipti is a trained pediatric physiotherapist with over five years of experience. Pediatric Physiotherapy is one of the specialty branches within the therapy spectrum and involves development and learning through play and therapy.
Dipti works with children of all abilities and uses approaches such as neurodevelopment technique (NDT), brain gym, reflex integration, sensory integration, and play therapy, to identify and treat various conditions related to milestones, posture, balance, and coordination.
Dipti joins us at YOUR HEALTH on February 22. For more information or to book an appointment, contact the clinic at 905.829.0724.
RAPID relief for tension and pain
Our RMT Weronika recently attended a course introducing a new method – RAPID – for treating musculoskeletal issues, such as tension and pain. RAPID stimulates the periosteum, a fibrous membrane that covers most bones, to release tension, reduce pain, desensitize tissue, and restore range of motion.
For more information about RAPID, see this handout from the RAPID course. To book an appointment with Weronika for a RAPID treatment, contact the clinic at 905.829.0724 or book an appointment online.
Restorative yoga classes
This year, make self-care a priority! Join us on your yoga mat every week for a relaxing and restorative experience. Restorative yoga boosts your immune and nervous system to combat chronic fatigue, anxiety, digestive problems, and other health challenges. This gentle, candle-lit class focuses on slowing down and opening your body through passive stretching and is an excellent way to relieve stress and improve sleep quality and concentration.
Suitable for all levels. Please arrive 15 minutes before class to register.
When: Fridays
Time: 6:30-7:30pm
Where: YOUR HEALTH Wellness Centre
Cost: $15.00 drop-in or purchase an eight-class card for $80.00 (no expiry)
Featured article: Relieving tension headaches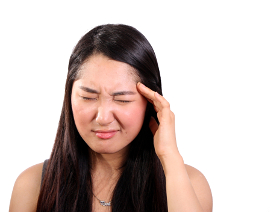 Tension type headaches (TTH) are one of the most common forms of headaches, yet they are not well understood. Most people describe having a band of pressure around their head that can last from 30 minutes to a week. TTH can be related to muscles tightening in the back of the neck and scalp. One of the best ways to combat tension headaches is through lifestyle changes. [Read more]
---

Like us on Facebook and follow us on Instagram and Twitter to get additional health facts and find out more about events.
We encourage feedback on your experience with us. If you have a few minutes, let us know how we did or how we could make your experience even better.
---