YOUR HEALTH Wellness Centre – May 2017 Clinic Newsletter
Thank you for supporting YOUR HEALTH during Inside Out for Autism!
Dr. Carole and the YOUR HEALTH therapists would like to thank everyone who offered support during April's Inside Out for Autism event. With your help, we were able to raise $150 to help raise awareness and acceptance for Autism Spectrum Disorders!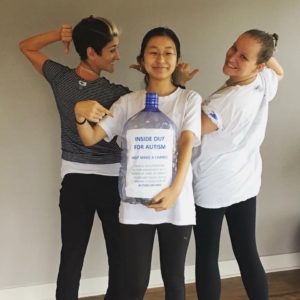 YOUR HEALTH now offers foot Reflexology
Our Reiki Master, Tania Hynes, is excited to announce that she now also offers foot Reflexology!
Benefits of foot Reflexology include stress reduction, improved circulation, stimulated nerve function, improved immune system, increased energy, and much more.
As a student of Reflexology (Ingham Method), she looks forward to helping you benefit through this noninvasive and holistic therapy. The principal behind Reflexology is that there are reflexes in the feet that correspond to every organ, gland and part of the body. Unlike a foot massage, Reflexology is a whole body treatment. This is safe and beneficial at any age, including children.
For a limited time, you can enjoy a Reflexology session at a reduced price:
40 min. $35.00
60 min. $50.00
Also ask about our Mind, Body, Soul Reiki and Reflexology Package for $95.00, which includes an amazing 55 minute Reiki session along with 30 minutes of reflexology.
Please feel free to email Tania with any questions you may have at tania@yourhealthwellnesscentre.com.
Featured Article: Tips for helping to keep your back healthy while working in the garden
Now that it is gardening season again, here is a reminder of some important things to keep in mind. [Read More]
Have you checked out our new YouTube channel?
Our therapists have been hard at work creating the first of a series of videos on subjects related to YOUR HEALTH. Head over to our YouTube channel to see what we've been up to!
https://www.youtube.com/channel/UC-2dYlcrg2SPZndO3yA9dJw
Other options for keeping in touch with YOUR HEALTH
In addition to this newsletter, did you know that we also have an active Facebook page and Twitter account? Like us on Facebook and follow us on Twitter to get additional health facts and find out more about events!
Facebook: YOUR HEALTH Wellness Centre
Twitter: @YHWC_clinic
Have you rated us? How can we do better?
We would love to hear feedback on your experience with us! If you've had a great experience with us, we would love if you rated us on Google. Here is how you can leave us a review.
In a web browser, type plus.google.com.
Sign into your Google account, or create a new account if you don't already have one.
Tip: If you create a new account, you can skip many of the profile steps until you are at your personal page.
To go directly to our Google Plus page, in the web address field, paste the following: https://plus.google.com/106480417673215088017.
You can also search using our name. The correct page is the one with the shield on it.
Click Write a review.
Provide a rating and a review about your experience with us.
Click Publish.
You are done! Thank you for your review!
We also have an online form to expand your options for providing feedback: https://docs.google.com/spreadsheet/viewform?formkey=dExKWXdyU09HOGRJMndvWU1sRW0zM0E6MQ
If you have a few minutes, please consider filling out the form to let us know how we did, what you liked, or how we could make your experience at YOUR HEALTH even better!